Messi lost his temper in scuffle after Argentina vs Bolivia
Wednesday night saw Argentina beat Bolivia in La Paz, which is always a dangerous place to play in World Cup qualifying, but the match ended with everything but peace between the two nations.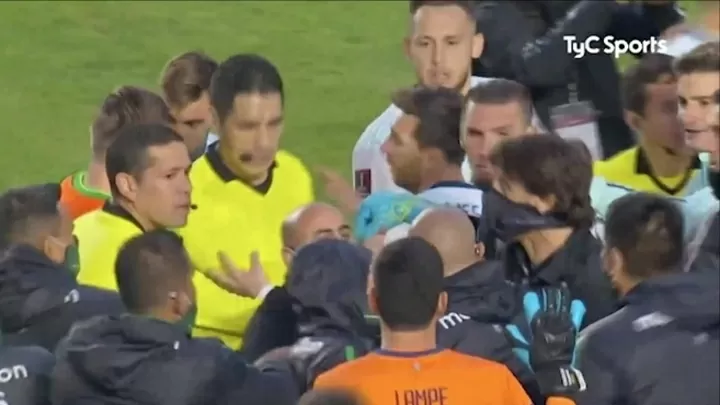 The referee blew the whistle at the end and the two teams got involved in a scuffle, headed by Bolivia's Marcelo Martins and Argentina's Lionel Messi, as well as a number of the Bolivian coaching staff.
Marcelo Martins reminded Messi of the time that he lost 6-1 in La Paz to Bolivia: "Idiot! They conceded six!" Martins said, but that wasn't all. There was more, although the cameras did not catch the message of Lucas Nava, the Argentinian physio working for Bolivia, with whom the Barcelona captain was indignant.
The first thing Messi heard was "Your mother's c**t, baldy," and he responded to the Bolivian coach. "What's wrong with you, baldy? Why are you making such a fuss, idiot? You don't have to come and f**k with me," Messi replied. In the end, everything calmed down and the referee, Diego Haro from Peru, booked Marcelo Martins and also Messi, who seemed to lose his temper.
Far away from the action, Sergio Aguero posted on social media to encourage Messi to fight the 'baldy'. "Slap the baldy, Leo Messi…" the Manchester City striker wrote.
The game itself ended in a 2-1 win for the Albiceleste. Marcelo Martins gave Bolivia a 1-0 lead after 24 minutes, but Argentina then grabbed the last two goals of the game through Lautaro Martinez in the 45th minute and Joaquin Correa in the 79th minute.
This result means that Argentina have now recorded two wins from two to start their qualifying campaign for the 2022 World Cup, having beaten Ecuador and, now, Bolivia. For Bolivia, however, they have lost their first two games in qualification, having been defeated 5-0 away in Brazil and then 2-1 against the Albiceleste.