La Liga returns: Strangest edition of the competition in history.
Whilst it wasn't the most expansive or exciting season of domestic Spanish football in recent memory, the 2019/20 campaign was certainly one of tight margins, with it unclear of what the outcome would be at either the top, middle or bottom of the standings, with it likely the team that made the fewest mistakes would take top honours.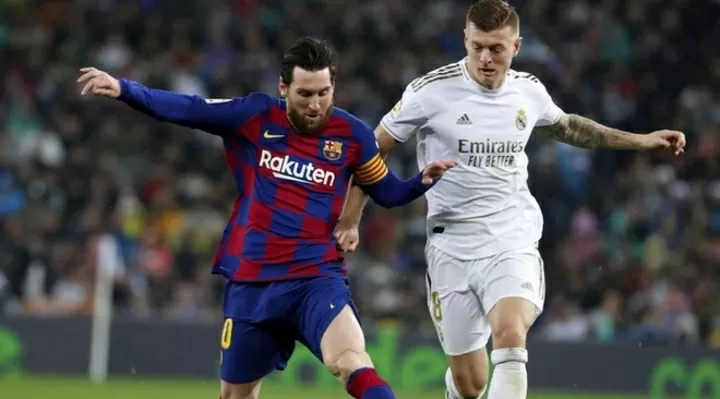 Yet, the emergence of the COVID-19 pandemic has turned this season into something of a landmark in sporting and societal history, not least because football is now entering the unknown.
Finances have been impacted within the game, fans aren't permitted at stadiums for the moment, yet the actual action on the pitch is due to be restarted with players undergoing multiple weekly tests for the coronavirus, as well as wearing protective masks on the bench.
Aesthetically it may look like a cartoon version of post-apocalyptic football, but make no mistake, this situation is very real and it's real for clubs too.
There is no textbook way of handling it, because there has never been an 'it' like it before, and clubs throughout Spain are now trying to negotiate their way back to competition as best they can.
Adaptability
Nobody knows exactly what will happen, we're going to see the final 11 matches of the season played in the most constricted of calendars.
It will be like a heavily caffeinated version of the traditional football schedule, everywhere you look there will be a game of some description or another, and both players and fans have to get used to this.
Teams will still have goals and objectives to achieve, just far less time to do so, imagine it to be like a domestic version of a World Cup or European Championship. Just over four weeks to play 11 matches, and every single team will have to find how to best approach it.


1st with 56 points: Luis Suarez joins the fight
Barcelona's objective is clear: to defend the slender two-point advantage they have over Real Madrid and win the title. This won't be easy despite the lead because prior to the break Quique Setien's team weren't playing well at all. Every player recognised it, from Lionel Messi to Ivan Rakitic and they know they must improve. In this sense, the break has done Los Cules some good with it allowing Luis Suarez to return, as well as giving rest to Messi. The Uruguayan was set to miss the rest of the season, but he will bring goals and assists for the final 11 matches.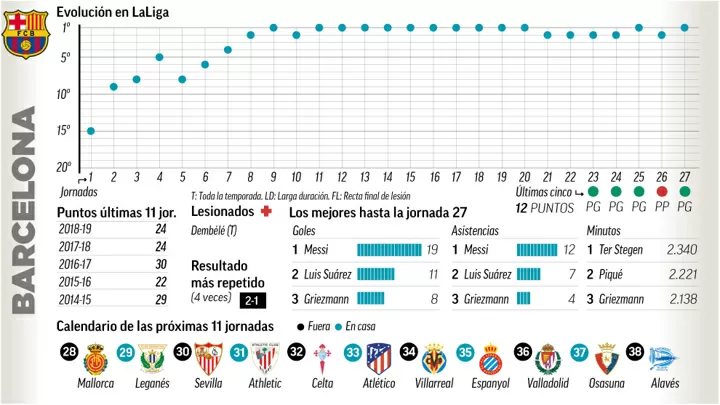 The star: Lionel Messi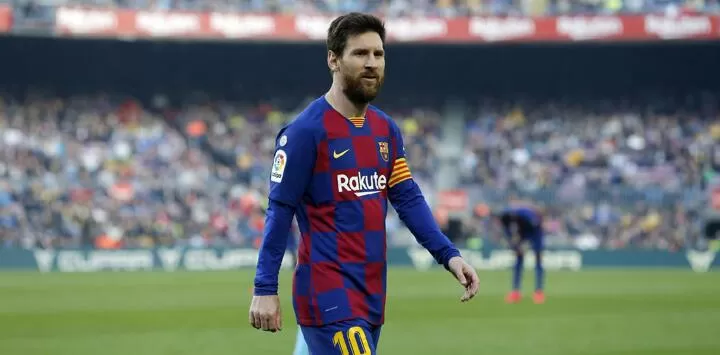 2nd with 56 points, ready to make the comeback
Zinedine Zidane has attempted to alleviate the pressure on his team in the face of the monumental challenge that faces them: winning 11 straight matches and reclaiming the domestic crown. Los Blancos' players know that achieving anything other than 11 wins will make winning the title very difficult, even with the Blaugrana's propensity for throwing points away this term. The last time Los Merengues chained together at least 11 wins in the same league season was in 2015/16, when Zidane was also the coach. A difficult task, yes, but Zidane will be buoyed by the returns of Eden Hazard and Marco Asensio.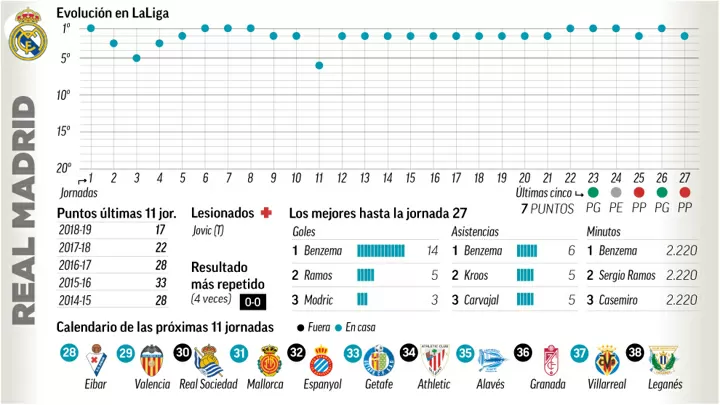 The star: Sergio Ramos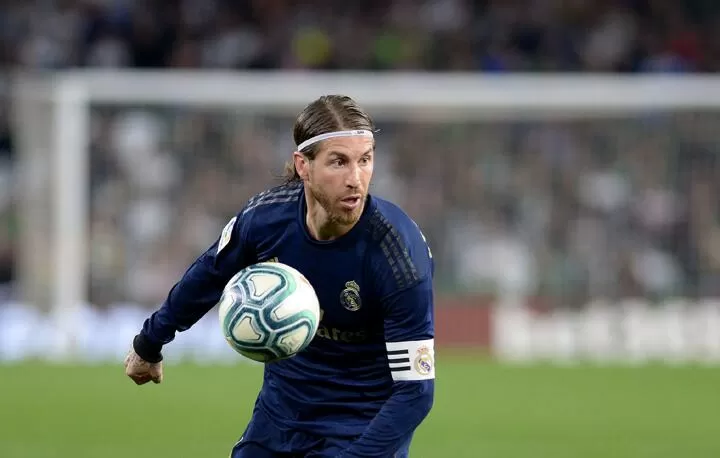 3rd with 47 points, they have to protect a valuable position
Monchi's return from Rome was perfectly timed for the Andalusian club and his summer recruitment drive, along with the arrival of Julen Lopetegui, has helped put the club back on the right track. The main goal for the 2019/20 season was to return to the Champions League and reap the rewards of the riches the tournament offers. Sitting in third place, Los Rojiblancos are in a good position to do just that, however it's an incredibly close battle. Sevilla's best characteristic has been their consistency this term, and they've been able to perform well away from home as a result. In the final 11 matches they will face Real Betis, Barcelona and Valencia all at home, and it will be these matches which determine whether the Andalusian club can protect their valuable position.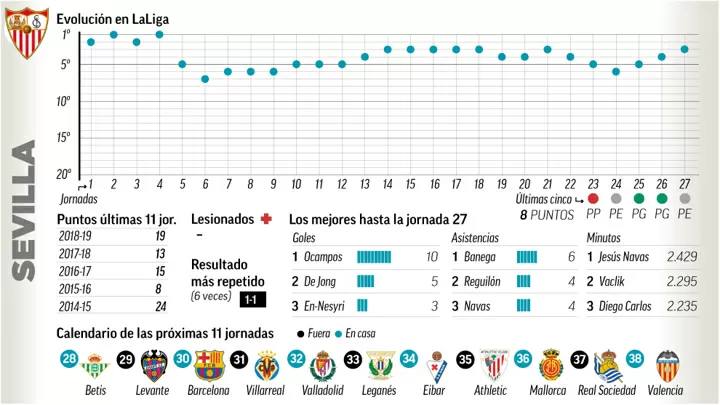 The star: Ever Banega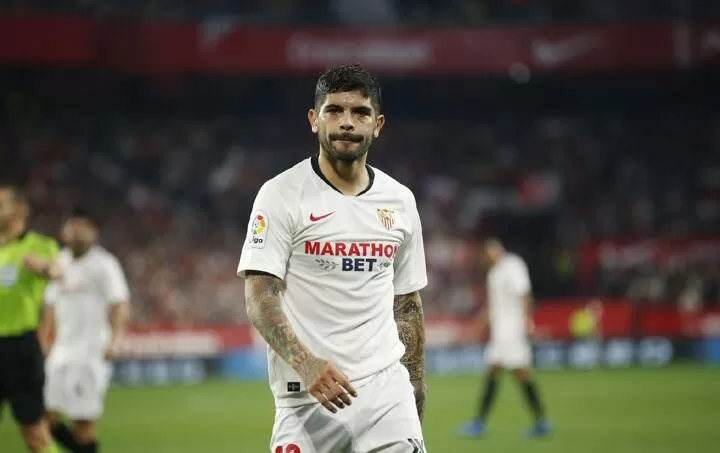 4th with 47 points: Get into the Champions League no matter what
La Real are eager to return to competition with Imanol Alguacil's side enjoying what can only be described as a phenomenal campaign to this point. Martin Odegaard's arrival has given them an added creative dynamic in key positions, which has brought the very best out of the team's jewel, Mikel Oyarzabal. It's no surprise that the team has been an attacking juggernaut and well worth their fourth spot in the LaLiga Santander standings, but the COVID-19 break damaged their momentum, with a five-win streak being held at the time. On the positive side, Alguacil will welcome back Asier Illarramendi and David Zurutuza.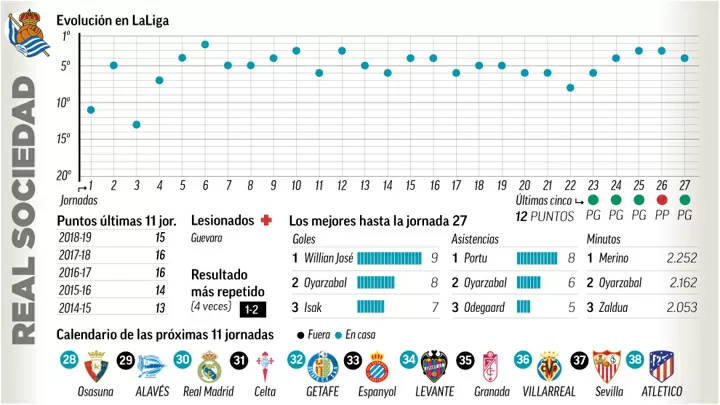 The star: Martin Odegaard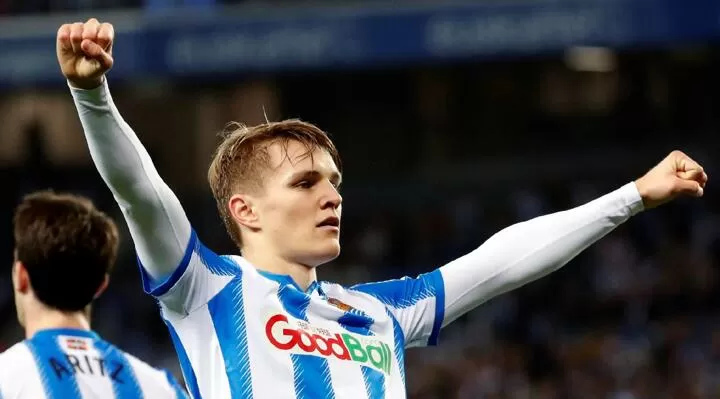 5th with 46 points: A return to the perfect dream
Jose Bordalas' Getafe have been leaving in a dream world for the best part of two years now. The Spanish coach has his own unique style and it has gelled perfectly with a club that has exceeded expectations by an amount not before thought possible. Champions League qualification is on the cards, as is a brilliant Europa League campaign and they are 11 matches away from a possible dream end to the season. However, there are suspensions for Maksimovic, Arambarri and Mata for their first match back, which poses a challenge, though there can be positives taken from the fact three of their next four domestic games are at home. The real challenge for Getafe is a psychological one, with the team having collapsed in 2018/19 and missed out on the Champions League. Bordalas will be key in making sure his team learn from those painful memories to ensure they never wake up from this particular dream.