Questions have been asked about Ronald Koeman's position as Barcelona coach after some embarrassing results in LaLiga Santander, followed by a 3-0 defeat at home to Juventus in the Champions League, but the Dutchman remains confident of turning things around.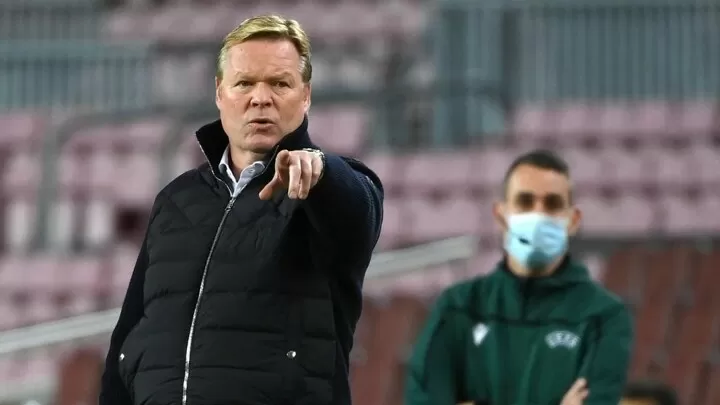 The Blaugrana take on Levante at the Camp Nou on Sunday night and find themselves in ninth position in the table, 12 points behind league leaders Atletico Madrid.
"If I didn't have the confidence [of the players], I couldn't work," Koeman said during Saturday's pre-match press conference.
"I feel comfortable. Of course I'm worried about the trajectory. We are trying to improve, and there is time to react."
One of the aspects of Barcelona's play that needs to be addressed in Koeman's eyes is the defence.
"In the last two games we have created chances, but we've conceded," he explained.
"We need to improve in defence, but I'm not obsessed with that either. Many mistakes are individual; penalties, corners…
"Against Juventus we came out poorly and let ourselves be dominated. But in the Champions League we got 15 points out of 18."
Many Barcelona fans have been calling for Riqui Puig to get more minutes, especially after showing what he can do in a cameo appearance off the bench against Juventus.
"He has come on in the last few games," Koeman said.
"The team I form depends on the performance of the players. I look for the best eleven.
"We'll see what happens tomorrow. I don't like to focus on one player. A coach analyses the system, the players… and based on this analysis he puts the team together.
"There are more than 20 players. If a player is not there, it's because of something."
The Madrid derby between Real Madrid and Atletico Madrid will take place on Saturday night, and Koeman has intimated who he would like to win.
"First we have to win our match," he stated.
"If we win, seeing the table, it is better that Atletico loses to cut the distance. But we should not be obsessed with other matches."
When asked if he has a message for Barcelona's fans after this tough run, the Dutchman laid bare the problems at the club.
"It's difficult for the fans, because they are used to winning games and trophies," Koeman explained.
"And we have lost against Cadiz… But we are in transition and there are many variables that affect it: economic difficulties, there are elections…"